TREK HIGHLIGHTS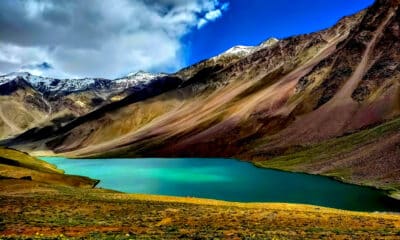 Scenic beauty: The trek offers breathtaking views of the Himachal Pradesh landscapes, including lush green meadows to the barren landscapes of Spiti, snow-capped peaks, glaciers, and waterfalls.
Adventure: Hampta Pass is a challenging trek that requires a moderate level of fitness, making it a great adventure for experienced trekkers.
Wildlife sightings: Hampta Pass is known for its rich wildlife, including ibex, snow leopards, and black bears. Trekkers may also come across rare species of birds and plants.
Explore: Explore Chandrataal, the 'Lake of the Moon,' a mesmerising emerald crescent-shaped lake that changes colour throughout the day.
QUICK FACTS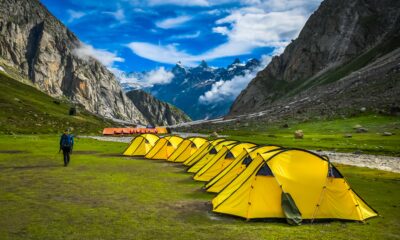 Meetup/Pickup location - Manali Bus Stand
Trek Start Time - 08:00 AM on Day 1
Trek End Time - 04:00 PM on Day 4
Trek Duration - 4 Days/ 3 Nights
Trek Difficulty - Moderate
Trek Distance - 35 Kms both ways
Trek Altitude/ Height - 14000 feet
Best Time to do Trek - May - September
TREK OVERVIEW
The Hampta Pass, situated at an elevation of 14,000 feet, is a stunning trek that offers a unique contrast to two different worlds. Located in the Himachal Pradesh region of India, the trek starts in the lush green valley of Kullu and takes you through a landscape with no vegetation to the barren mountains of Lahaul. The trek is known for its incredible views, with the Dhauladhar range serving as the backdrop to the flower-filled valleys and meadows. It offers a unique blend of natural beauty, thrill, and stunning vistas. The trek takes you through picturesque meadows, dense forests, and challenging mountain passes, making it an unforgettable experience for trekkers and nature lovers. The views from the top of the pass are truly breathtaking. The trek covers a distance of about 35 km and takes around 5-6 days to complete.
DAY WISE ITINERARY
Day 1 - Drive from Manali to Jobra and Trek to Chika (10,100ft)
Begin the day with a shared jeep transfer from the Manali bus stand to Jobra, the trek starting point.
Receive briefings from your travel guide and gear up for a 10,400 ft hike to Chika.
The trek is a 2 km path through mixed pine, green maple, and birch tree forests alongside the River Rani.
Admire the breathtaking scenery of big rocky hills and the Himachal topography during the hike.
Spend the night at the Chika campsite.
Day 2 - Trek from Chika (10,100ft) to Balu ka Ghera (11,900ft)
Start the day with a pleasant trek from Chika campsite to Ghera ka Balu.
Enjoy the first glimpse of the outer Himalayan mountain range and the Dhauladhar range.
Spend the night at Balu ka Ghera campsite.
Day 3 - Trek from Balu ka Gera (11,900ft) to Hampta Pass (14,100ft) to Balu ka Ghera
Balu Ka Gera (11,900 ft) to Hampta Pass (14,100 ft) and back to Balu Ka Gera.
Today is the highlight of the trek.
Start early and trek from Balu Ka Gera to Hampta Pass, which offers panoramic views of the Himalayas.
Spend some time at the pass, taking in the magnificent vistas and enjoying the serene atmosphere.
Begin the descent back to Balu Ka Gera.
Reach Balu Ka Gera and spend the night in tents, reflecting on the day's experience.
Day 4 - Balu Ka Gera (11,900 ft) to Chika (10,100 ft) to Jobra (9,800 ft) to Manali
After breakfast, begin the descent back to Chika.
Continue the trek from Chika to Jobra, where you started on Day 1.
From Jobra, drive back to Manali, where your 4-day trek concludes.
Say goodbye to the beautiful mountains and head back home with unforgettable memories.
INCLUDES/ EXCLUDES
Price Includes
Accommodation: All camping eqipment like sleeping bags, tents, and sleeping mats will be provided during the trek. The tents are usually shared between 3-4 people.
Meals: All meals during the trek (breakfast, lunch, dinner, and evening tea) are usually included in the package. The food is usually simple and nutritious, with a mix of Indian and continental cuisine.
Trekking staff: Experienced trek leaders, guides, and support staff are included in the package to ensure a safe and enjoyable trekking experience.
Transportation: Transport from the starting point to the end point of the trek is usually included in the package.
First-aid: A basic first-aid kit usually carried during the trek for emergencies.
Price Excludes
Personal expenses: Any personal expenses such as bottled water, energy drinks, snacks, and alcohol are not included in the package.
Travel insurance: Travel insurance is not usually included in the package and it is the responsibility of the trekker to arrange their own insurance coverage.
Emergency evacuation costs: In case of a medical emergency, the cost of evacuation (e.g., helicopter rescue) is not usually covered in the package and is the responsibility of the trekker.
Tips for trek staff: Tipping the trek staff is not included in the package and is entirely at the discretion of the trekker.
Others: Any other service not mentioned above in trek Inclusions.
THINGS TO CARRY
Backpack: A comfortable and sturdy backpack is essential to carry all your gear and supplies during the trek.
Clothing: Pack warm and waterproof clothing, including thermal innerwear, a fleece jacket, a waterproof jacket, and a hat and gloves.
Footwear: Good quality trekking shoes are a must, as the trek involves a lot of walking over uneven terrain and extra pair of socks.
Hydration: A hydration system, such as a hydration bladder or water bottles, is important to stay hydrated during the trek.
Food and snacks: Pack enough food and snacks to last for the duration of the trek, including energy bars, dried fruits, and nuts.
Emergency medical supplies: It is important to pack a basic first-aid kit containing essential items like pain relievers, bandages, and antiseptic ointments for any unexpected medical emergencies during the trek.
Lighting equipment: A headlamp or flashlight is indispensable for moving around in low light conditions.
Identification: Don't forget to bring a government-issued identification card such as a aadhar card or driver's license, as it may be required for verification purposes during the trek.
CONFIRMATION POLICY
Within a day of a successful booking, the client gets a voucher of the confirmation through email.
If the preferred slots are not available, an alternative schedule will be arranged according to the preference of the customer, and a new voucher of confirmation will be sent through email.
Alternatively, before confirmation, the customer can decide to cancel their booking, and a complete refund will be issued.
CANCELLATION POLICY
Cancellations made in between 30 days of the start date of the trip will be assessed a cancellation fee of 25% of the total tour cost.
Cancellations made between 15-30 days of the trip's start date will be charged 50% of the total tour cost as cancellation fees.
If you cancel within 0-15 days of the trip's start date, you will be charged 100% of the entire tour cost as cancellation fees.
In the event of bad weather or government restrictions, any trips or events may be cancelled. In such a case, the operators will do all possible to give a viable alternative. However, a cash refund is not available on this item.
REFUND POLICY
If you select a refund after canceling your trek, the refund amount will be deposited into the payment account that you had used while making payment to us. It will take ten to twelve working days.
ABOUT US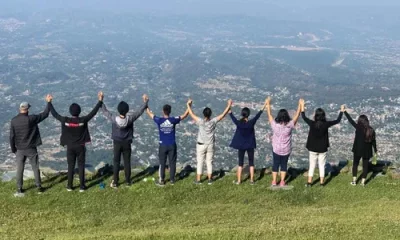 Why MadTrek ?
We prefer to do things differently keeping in mind safety, comfort & pleasure of our trekkers at highest priority. We strongly believe in preserving the brilliance we proudly call our home & do not welcome anyone who litters around & doesn't respect the notion of loving nature so it can love you back.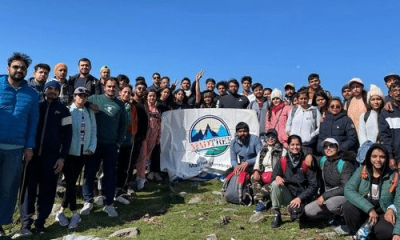 Exceptional Reviews
With more than 1,000 people joining our tours annually, we have a proven track record of providing quality trips that exceed our guests' expectations. You can read reviews on Tripadvisor, Facebook, and on our website.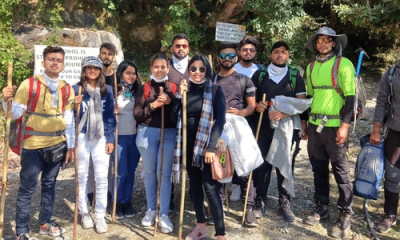 Highly Acclaimed Guides
Our absolute commitment is to hire and train the best guides in the industry. Our philosophy is that our guides, gear, food and logistics comprise our services that a guest will get to experience, and the guides are the most important ingredient! We never compromise on that..