TREK HIGHLIGHTS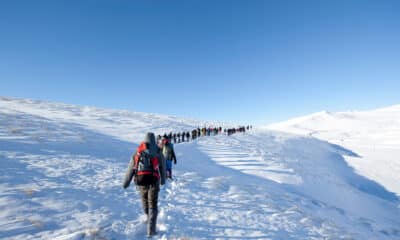 Kedarkantha Trek in Uttarakhand is every adventurous heart's dream come true destination.
Camping around a frozen lake, watching sunrise from the top of a mountain while snow covered pine trees create a magical canvas for photographers to capture just the perfect shot.
Experience the beautiful snowcoverd trail, scenic campsite and witness powdered snow all around this magnificent location.
QUICK FACTS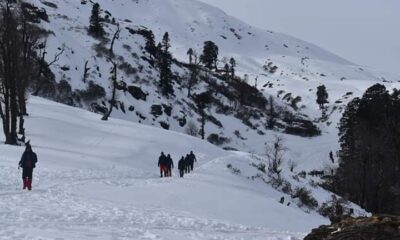 Trek Start/ End Location - Sankri Village, Uttrakhand
Kedarkantha Trek Duration - 5 Days 4 Nights
Kedarkantha Trek Distance - 20 KMs
Kedarkantha Trek Height - 12500 ft
Kedarkantha Trek Difficulty - Easy to Moderate
Kedarkantha Trek Best Time - November to April
TREK OVERVIEW
Get ready for the Kedarkantha Trek, a summit trek in Uttrakhand, India's top most and exciting trek. Peak is often regarded as the top snow-trekking location on the planet, with its pine tree-lined slopes and a blanket of white snow. The ascent to this mountain pass in Uttarakhand, situated at an elevation of 12,500 feet above sea level, presents explorers with a wide range of difficulties. If you're looking for a great adventure in pristine wilderness, go no further than our Winter Snow Trek. Beautiful landscapes, dense forests, pastures, and even snow trails await you during this hike.

Kedarkantha Summit is located in Uttarkashi's Govind wildlife National sanctuary park, which is why you should know about it. Several picturesque river valleys surround this stunning hill; one of them is the upper valley of Garhwal, home to a community that has called this area home since the Mahabharata era. Kedarkantha is the best winter snow trek in India, and it's easy enough for first-timers to tackle. It's a Himalayan adventure everyone should have at least once. Between the first week of November and the last week of April, when the snowfall is at its heaviest, this is the best time to make the journey. After about the middle of November, snow begins covering the magnificent campsites on the Kedarkantha trek.

It's true that every Himalayan hike has its own unique charm. You may get a dose of nature on a trek that you just can't get in the city, and you can push yourself to new mental and physical boundaries. This Himalayan hike is one of the few that will force you to see nature in all its pristine glory. It has everything a hiker could want—from snowy peaks to lush forests and ice lakes to a pleasingly delicious peak. The climb to the peak is the most challenging and rewarding part of the expedition. From the Sankri base camp at the bottom to the peak at the top, you may take in all of these sights.
DAY WISE ITINERARY
Day 1 - Dehradun-to-Sankri drive
Reporting Location - Prince Chown, Near Railway Station (Dehradun)
Reporting Time - 06:00 AM to 09:00 AM daily
The trip to Sankri, which is situated on National Highway 123, is worth it. Traveling by car from Dehradun to Sankri is over 200 km via Mussoorie, and you'll pass through some breathtaking valleys and woods.
In about 22 kilometers before reaching Sankri, hikers will see breathtaking views of the Himalayas and lush vegetation. Govind National Park, famous for its abundant plant life, is also nearby. Some of the flora in this park can be found nowhere else in the country.
Day 2 - Sankri-to-Juda ka Talab Trek
On day 2, you'll trek to 9,100 feet Juda Ka Talab. You'll cover 5km by afternoon, although this depends on the trekker's ability.
Get yourself set for an exciting array of new experiences along the trail. Ice and slush may disturb you when trekking, but Madtrek Adventure's guides will help you.
The trip begins in a pine and maple forest and rises through wildlife and fields. As you climb, you'll see huts in the fields.
While trekking, you'll view a goliath lake on one side and lush pine & oak backwoods on the other. Lukewarm water surrounds the lake, while the rest is colder.
In winter, ice replaces water, making for a beautiful sight. This lake features a natural tunnel that supplies water to communities.
You'll climb bridges and find Himalayan Languor on this journey. These cautious animals are rarely seen.
This region has boars, hares, and martens. You'll spend the night in a camp where you can enjoy nature.
Day 3 - Trekking from Juda-ka-Talab to the base of Kedarkantha (Lohasu)
A sunrise is something to behold first thing in the morning; it will leave you speechless. The next day, we'll set off for Kedar Kantha base, which is 3,400 meters (11,250 ft) above sea level.
The distance between Jadu Ka Talab and Kedar Kantha Base is over 4 kilometres, and it takes 2.5 hours to go that distance at a brisk pace. You should know that Jadu Ka Talab is a beautiful lake encircled by pine trees, which often freezes during the winter, and which also turns out to be a site for adventures and enjoyable activities for the trekkers.
As you climb higher, the trail will get progressively steeper. Pay close attention while your hike leader teaches you several techniques for navigating snowy terrain. He may also advise you on the appropriate size of your steps.
Once again, your hiking will begin in a thick grove of pine and oak trees. The path winds its way between the cliff faces as well. At an elevation of 10,400 feet, you'll begin to see snow trails that will lead you to breathtaking vistas of the natural world.
Before reaching the base camp, all hikers can watch the breathtaking views of numerous arc-shaped mountains that are covered with snow, including Bandarpoonch, Kala Nag, Swargarohini, and Ranglana, which stand with great pride in the lap of Mother Nature.
Dinner tonight will be provided exclusively in the comfort of your tents.
Day 4 - Early Morning trek from Kedarkantha's base to its summit and back down to Juda-Ka-Talab camp
Since you'll be climbing Kedar Kantha on day 4, you should expect a rather long day. Today you will hike almost 6 kilometres (from 12,500 feet to 11,250 feet) over the course of 7 hours. You should be aware that the trail will be more challenging because of this.
While hiking, you will be able to take in the stunning natural scenery and magnificent views of various mountain ranges, including the Rupin. Local legend has it that when builders attempted to construct the Kedarnath temple atop the peak, they were interrupted by the sound of an animal—an auspicious sign of impending divine intervention—and so the peak was renamed Kedar Kantha.
They worked on the statue of Shiva until they reached his neck; in Hindi, the neck is referred to as a Kanth, and Kedar is just one of Shiva's many titles. For this reason, we refer to it as Kedarkantha.
Kedar Kantha is a great place to take in the sights of Bandarpooch, Kalanaag, Swargarohini, Gangotri, and Yamunotri. Once you reach the peak, the breathtaking scenery will help you find emotional equilibrium while also leaving you in a state of awe, and on the same day, we'll begin our journey back to Juda-Ka-Talab camp.
You will spend the night in the campgrounds, which will provide you with stunning views of the surrounding valleys and natural scenery.
Day 5 - Trek from JUda-Ka-Talab camp to Sankri and departure from Sankri to Dehradun
On day five, hikers will start their descent from Juda-Ka-Talab Camp to Sankri. After starting at an altitude of 8900 feet, we will be bringing ourselves down to an elevation of 6400 feet. It will take you at least 4 hours to hike down the 6.2-kilometre-long track at a leisurely pace.
Today is the day that you must say goodbye to the majestic Himalayas and other snowy mountain ranges as we return to Sankri. The distance between checkpoints isn't very far, so the journey shouldn't be too taxing on you.
After breakfast, you'll pack up your belongings and head along a paved route that will lead you to Sankri.
Today is the day that you must say goodbye to the majestic Himalayas and other snowy mountain ranges as we return to Sankri. The distance between checkpoints isn't very far, so the journey shouldn't be too taxing on you.
Traveling the 220 kilometers between Sankri and Dehradun will take around 10 hours on day 6. You will depart Sankri in the morning and arrive in Dehradun in the late afternoon.
You should plan to arrive in Dehradun between 7 and 8 pm, so you may make reservations to return home.
As you travel back to Dehradun, be sure to gather your memories.
INCLUDES/ EXCLUDES
Price Includes
Camping gears and equipment like tents, sleeping bags, sleeping mats, kitchen tent and utensils etc.
Hygenic and delicous meals as per itinerary (vegetarian)
Trekkng gears like gaters and crampons (snow spikes)
Safety equipment for trek team (Ice Axe, walkie talkies, oximeter, first aid kit, oxygen cylinders, stretcher, etc.)
Services of an expert trek leader (Qualified in Basic/Advanced Mountaineering Courses)
Services of an expert trek team (Guides, cooks, helpers, porters/mules)
Camp fire at all camps (If weather permits and if available)
Trekking permits and forest camping charges
Price Excludes
5% GST(Service Tax)
Food during travelling from Dehradun to Sankri & Return
Backpack offloading charges additional
Personal expenses of any kind
Anything apart from the inclusions
THINGS TO CARRY
Hiking Boots (should be waterproof with ankle length)
Winter Trek Gears | Hiking pole, water bottle, waterproof gloves, head torch with spare batteries, sunglasses, sunscreen etc.
Winter Clothing | Warm trekking pants, sweatshirt/sweaters, windproof downjacket, thermals, muffler, cap and socks etc.
Backpack with rain cover (40 to 50 liters)
Rain poncho, rain pant, poly bags/garbage bags to keep dry and wet clothes seprate during rainy/snowy weather
Personal medical kit and toiletries
FAQS
One of the well-known trekking routes in India is the Kedarkantha trek, which is around 20 kilometres long.
Only the BSNL network is accessible in Sankri; as you go on the hike, no networks are accessible.
The hiring of a knowledgeable local trek guide is a crucial and strictly enforced requirement by Govind Vihar National Park management.
At most, four days, at least three days. The Kedarkantha journey is 20 km long on both sides. However, the steep terrain is difficult to ascend. If you are a skilled trekker, you could finish in two days as well.
Here I the list of the essential items to bring for the Kedarkantha trek. Woollen apparel, such as sweaters, thermals, pairs of gloves, caps, mufflers, and socks: During the winter, heavy three- to five-layer outfits are not advisable because the weather can change quickly. For summer travel, light woollen is sufficient.
CONFIRMATION POLICY
Within a day of a successful booking, the client gets a voucher of the confirmation through email.
If the preferred slots are not available, an alternative schedule will be arranged according to the preference of the customer, and a new voucher of confirmation will be sent through email.
Alternatively, before confirmation, the customer can decide to cancel their booking, and a complete refund will be issued.
CANCELLATION POLICY
Cancellations made in between 30 days of the start date of the trip will be assessed a cancellation fee of 25% of the total tour cost.
Cancellations made between 15-30 days of the trip's start date will be charged 50% of the total tour cost as cancellation fees.
If you cancel within 0-15 days of the trip's start date, you will be charged 100% of the entire tour cost as cancellation fees.
In the event of bad weather or government restrictions, any trips or events may be cancelled. In such a case, the operators will do all possible to give a viable alternative. However, a cash refund is not available on this item.
REFUND POLICY
If you select a refund after canceling your trek, the refund amount will be deposited into the payment account that you had used while making payment to us. It will take ten to twelve working days.
ABOUT US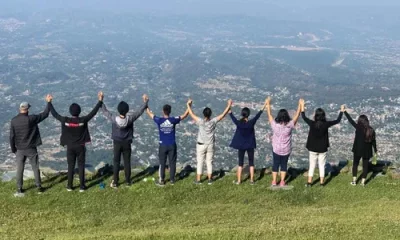 Why MadTrek ?
We prefer to do things differently keeping in mind safety, comfort & pleasure of our trekkers at highest priority. We strongly believe in preserving the brilliance we proudly call our home & do not welcome anyone who litters around & doesn't respect the notion of loving nature so it can love you back.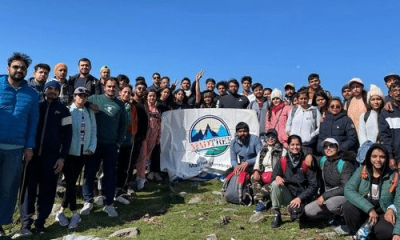 Exceptional Reviews
With more than 1,000 people joining our tours annually, we have a proven track record of providing quality trips that exceed our guests' expectations. You can read reviews on Tripadvisor, Facebook, and on our website.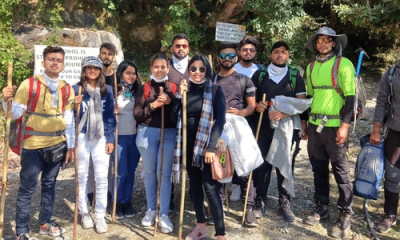 Highly Acclaimed Guides
Our absolute commitment is to hire and train the best guides in the industry. Our philosophy is that our guides, gear, food and logistics comprise our services that a guest will get to experience, and the guides are the most important ingredient! We never compromise on that..