TREK HIGHLIGHTS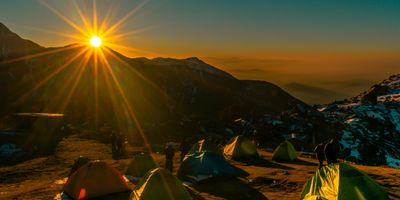 A top Triund trek led by an experienced guide
Waterfalls at Bhagsunag are visited during the trek
The night sky is filled with billions of stars while camping on Triund
Featuring delicious, home-cooked meals
A stunning view of the Dhauladhar Mountains
Offloading of backpacks in McLeodganj is complimentary
For the first 30 minutes, you can stay in a complimentary room in Mcleodganj
Complimentary car parking facility in Mcleodganj
During Day 1, you will receive a complimentary lunch pack
QUICK FACTS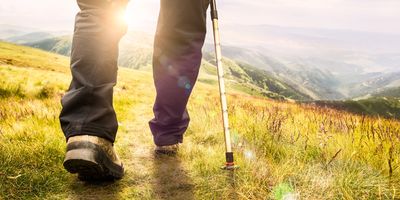 Triund Trek Start & End Location - Bhagsu Nag, Dharamshala (Google Map)
Trek Start Time - 10:00 AM on Day 1
Trek End Time - 12:00 PM on Day 2
Trek Duration - 2 Days/ 1 Night
Triund Trek Difficulty - Easy to Moderate
Triund Trek Distance - 16 Kms both ways
Triund Trek Height - 2850 Meters
TREK OVERVIEW
In the Himalayas, the Triund trek is one of the easiest. Stunning views of snow-covered Dhauladhar ranges and Kangra Valley make this the most picturesque spot. A must-do if you're looking for an easy and trouble-free trek in this region. There is a steep climb at the end of the trail, but the route is short. The national park of Triund encompasses a large area of green grass, deodar, oak, pine, and Rhododendron forest. The trek is one of the most popular ones in India.

Seasons do not exist for Triund. During the summertime, Triund is at its most beautiful and the weather is most pleasant. If you prefer a chilly, snowy environment, the winter is a great time to visit. Rainfall in this place is heavy during the monsoon season (June & July). During the monsoon season, trekking should be avoided in Triund. Camping adds charm to the Triund Trek . Every morning, you're greeted by a stunning sunrise, and every evening, you're treated to a breathtaking sunset. Stars fill the night sky at night.

Join us on this adventure to experience nature at its best and sleep in tents and sleeping bags and share a tent with your group!

HOW TO REACH
Triund is located in the Kangra district of Himachal Pradesh, in Dharamshala. If you are interested in doing this trek, reach Dharamshala first. Next, you might wonder how to gaway.et to Dharamshala.Here are some travel options…

By Air–
If you're going to come by air, then it's going to be the best way as Dharamshala has its airport called Gaggal. In this way, Dharamshala is easily accessible from any of India's major cities.

By Bus–
This would be the most accessible approach if you're willing to travel from Delhi or Chandigarh, particularly if you're on a limited budget. Dharamshala can be reached within a few hours by direct bus from Delhi, approximately 8 to 10 hours. It is important to keep in mind that most coaches run overnight.

By Train –
If you're looking for the cheapest way of travel to reach Dharamshala then it would be by train. Dharamshala does not have a railway station, so getting there can be challenging. To reach Dharamshala, take a train till Pathankot and travel on a bus for approximately 2-3 hours.

DAY WISE ITINERARY
Day 1 - Bhagsunath to Karthani Camp (100 meters in altitude below Triund top)
Trek distance: 4 km(approx)
Trek duration: 1 hour 20 min
GPS Coordinates of Bhagsunath campside:32° 14' 39.228" N and 76° 20' 4.092" E.
GPS Coordinates of Karthani camp: 41.511890 to -93.357710

Report to the Bhagsu Nag Taxi Stand before 10:00 am, and hike to Triund top. This is one of the most popular treks, passing by popular Bhagsu waterfall and Shiva cafe, mixed deodar, oak, and fir forests. Forests of rhododendrons. You can enjoy panoramic views of Bhagsu village, Mcleodganj, Dharamsala valley, and Shivalik hills, Kangra valley, and Punjab plains. On the way, stop for a short lunch/snack break at Maggie Point. A ridge runs along the edge of Triund, and from one side, one can see the entire Kangra Valley, while from the other side, the Dhauladhar Mountain Range can be seen. If there is bad weather or government restrictions, the campsite will be located in McLeodganj, just 600 meters below triund top. We will continue our story-swapping session around the campfire (if the weather and forest department permit) and then have dinner around the fire. At approximately 10:00 p.m., you can retire to your tent for the night.
Day 2 - Checkout and downhill trek to Bhagsunath
Upon awakening, you will be greeted by a stunning sunrise and you will be able to step out of the camp after breakfast. After the trek to Triund, you will begin the downhill trek back to Mcleodganj.
INCLUDES/ EXCLUDES
Price Includes
Evening tea, dinner and breakfast (veg only)
Experienced and certified trekking guide
Camping gears and equipment like tents, sleeping bags, sleeping mats, kitchen utensils
First-aid medical kit with the team
Toilet tents (Pit style)
Price Excludes
Tips, Gratitude to the Team
Any Private Expense
Any cost arising due to natural calamities
Any Other Service Not Mentioned Above in Inclusions
THINGS TO CARRY
Thermals, Socks, Waterproof gloves
Trekking shoes, Slippers/floaters
Sun cap, Sunglasses, Sunscreen
Trekking pants, warm Jacket
Headlamp/torch
Medical kit
Toiletries
Camera
Water bottle, Plastic bags
ORS: In case of dehydration, Protein bars
Trekking pole
CONFIRMATION POLICY
Within a day of a successful booking, the client gets a voucher of the confirmation through email.
If the preferred slots are not available, an alternative schedule will be arranged according to the preference of the customer, and a new voucher of confirmation will be sent through email.
Alternatively, before confirmation, the customer can decide to cancel their booking, and a complete refund will be issued.
CANCELLATION POLICY
Cancellations made in between 30 days of the start date of the trip will be assessed a cancellation fee of 25% of the total tour cost.
Cancellations made between 15-30 days of the trip's start date will be charged 50% of the total tour cost as cancellation fees.
If you cancel within 0-15 days of the trip's start date, you will be charged 100% of the entire tour cost as cancellation fees.
In the event of bad weather or government restrictions, any trips or events may be cancelled. In such a case, the operators will do all possible to give a viable alternative. However, a cash refund is not available on this item.
REFUND POLICY
If you select a refund after canceling your trek, the refund amount will be deposited into the payment account that you had used while making payment to us. It will take ten to twelve working days.
ABOUT US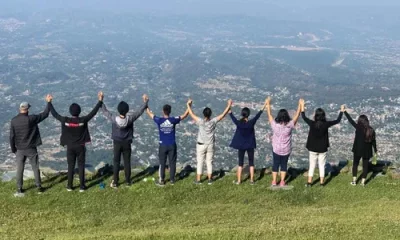 Why MadTrek ?
We prefer to do things differently keeping in mind safety, comfort & pleasure of our trekkers at highest priority. We strongly believe in preserving the brilliance we proudly call our home & do not welcome anyone who litters around & doesn't respect the notion of loving nature so it can love you back.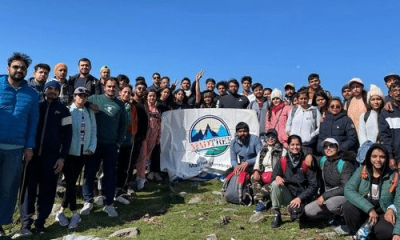 Exceptional Reviews
With more than 1,000 people joining our tours annually, we have a proven track record of providing quality trips that exceed our guests' expectations. You can read reviews on Tripadvisor, Facebook, and on our website.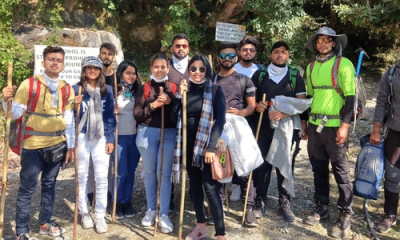 Highly Acclaimed Guides
Our absolute commitment is to hire and train the best guides in the industry. Our philosophy is that our guides, gear, food and logistics comprise our services that a guest will get to experience, and the guides are the most important ingredient! We never compromise on that..
EXCEPTIONAL GUEST REVIEWS
With more than 1,000 people joining our tours annually, we have a proven a track record of providing quality trips that exceed our guests' expectations. You can read reviews on Trip Advisor, Facebook, and on our website.
FAQS
Triund Top takes roughly 4 hours to reach for most tourists (from the Bhagsunag, add another 30 minutes for Mcleodgunj to Bhagsunag).
Yes, you should hire a licensed professional guide for your triund walk since local guides may be useful in telling you about the region and directing you through different pathways in the hills. If you make Triund Trek Booking with a renowned & registered agency they have a team of autorised and certified guides to walk along with you throughout the trek.
No, the Triund hike is not risky except during the rainy season. During the wet season, the trail might get slick. Even if you are a rookie at trekking, you may easily complete this journey.
In recent times, Triund has become a big hiking and trekking spot with people coming to the beautiful place all year round. With so much hustle-bustle and human presence the wild animals usually don't come down. The area above Triund like Elaka, Indrahar Pass etc. have been inhabited by wild boars & leopards. Make sure to book Triund Trek from a reputed agency who takes care of your safety completely.
A few ATMs at McLeod Ganj are your most reliable point to withdraw cash. You find SBI and HDFC ATMs here. But there is no ATM after Mcleodganj during the Triund Trek.
All through the triund trek, the mobile network is quite unstable. Bhagsunag is the final spot where you would receive a strong signal. It is quite unlikely that you will receive a signal at Triund. If you have an emergency and need to make a phone call, ask the business owners at the Top for assistance. They will either inform you of the specific location where you may receive a signal or, if necessary, will arrange for it.
Yes, the route is 5-6 kilometers long from Bhagsunag. You may easily reach Triund Top in the afternoon if you start early in the morning (6:00 am to 7:00 am) from Bhagsunag. Stay for 2-3 hours, take in the scenery, and then return to Bhagsunag. If you would like to experience the beauty of it for a night,  triund trek from a local company where they give you food and tents for the night too.
Triund Trek is one of the simplest hikes and is ideal for first-time hikers. It has several slopes and horizontal routes, and because the distance between Mcleodganj and Journey is so small, the trek will not exhaust all of your energy. The first 6 kilometers of the journey are easily accomplished by anyone, regardless of hiking expertise. Following this, there will be severe turns, and you'll be challenged on both physical and mental levels. The hiking experience will also be affected by the environmental conditions and the time of year you visit. Winters and severe weather make the walk tough to accomplish.
The Bhagsunag, known for a beautiful heritage temple, situated near Mcleodganj, serves as the trek's base camp. Bhagsunag is about 2 kilometers from main McLeod Ganj market and a 25-minute walk from the bus station. You may also take taxis or vehicles from McLeod Ganj, approximately 4-5 kilometers away.
The Triund snowline trek is thrilling and exciting, but it is essential to consider the time of year for Triund Trek Booking. Except during the monsoon season in July and August and the cold winter months of January and February, the Triund trek can be done at any time of year. March to June are ideal months for hiking. If you want to view the mountain peaks in their best light, during the post-monsoon season. Booking Triund camp in December will reward you with its first snowfall.