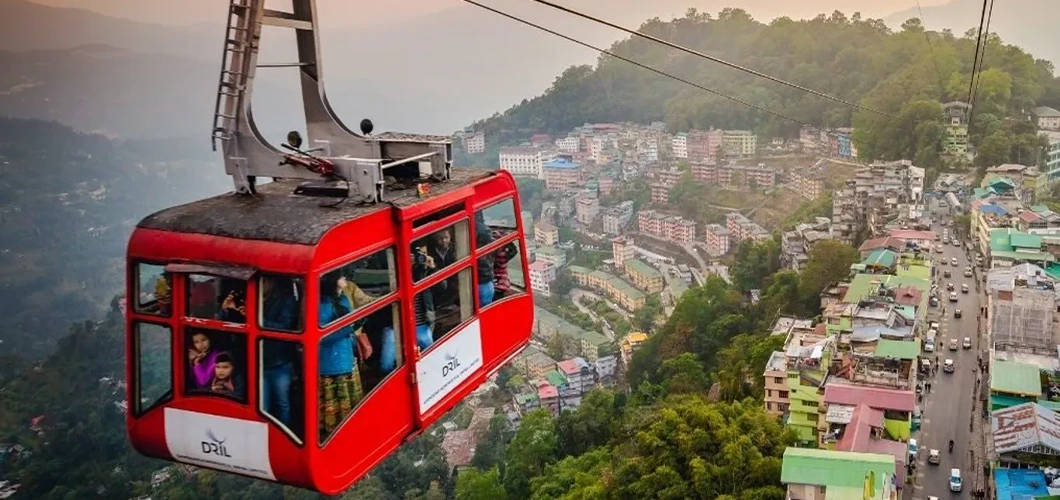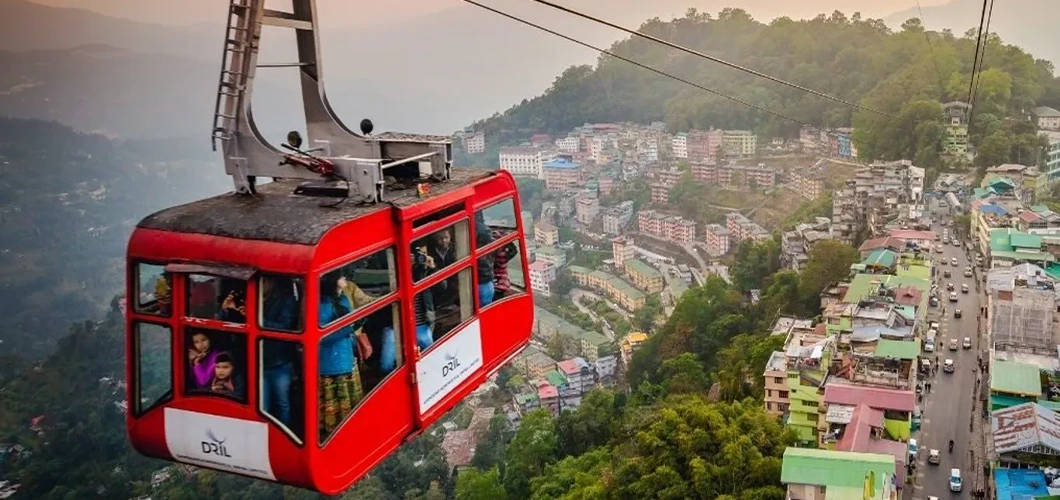 Dharamshala is a beautifully breathtaking hill station in the Kangra Valley of Himachal Pradesh, India. It is a place where beauty, spirituality, and cultural diversity come together. It is home to the famous Tibetan leader Dalai Lama. Dharamshala is very popular among Tibetan and Indian cultures, offering visitors a unique and enriching experience.
Dharamshala is a nature lover's paradise with its snow-covered peaks, lush forests, and peaceful waterfalls. It is also a popular destination for pilgrims and spiritual seekers, who come to visit the many Buddhist monasteries and temples. Dharamshala is a place where all four seasons feel different and beautiful. Looking for the best season to visit Dharamshala? In this article, we will explore each season to help you decide the best time to visit Dharamshala for you.
Dharamshala In Summer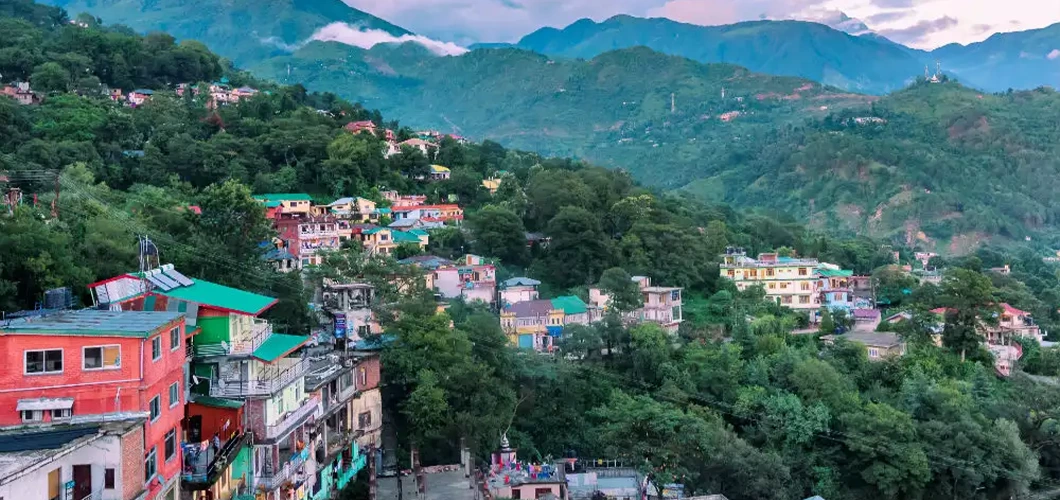 Summer in Dharamshala is the best time to visit Dharamshala, with pleasant weather for all and a variety of activities to enjoy. The temperature typically ranges from 20°C to 35°C in summer, which makes it a perfect escape from the scorching heat of the plains. The summer season in Dharamshala generally begins in mid-March and lasts until the end of June, which marks the beginning of the monsoon.
Things to do in Dharamshala In Summer
Camping
Camping is another great way to experience the natural beauty of Dharamshala. Not only it's day camping give you a beautiful view of the surrounding mountains, but even night camps come with amazing views of the sky. It is one of the best seasons to visit Dharamshala, for the camping experience. Some popular summer camping sites are Triund, Bhagsu Nag, and Naddi. Along with camping one can also enjoy the local tourist spots nearby camps.
Paragliding
Paragliding in Dharamshala during the summer season is a once-in-a-lifetime experience. Once in the air, you witness stunning views of the Himalayas, lush green valleys, dotted villages, and sparkling rivers. It's the perfect way to witness the beauty of the Himalayan town and to create memories.
Trek to Triund
The Triund is a popular trek in the Dhauladhar mountains of Himachal Pradesh, India. The trek begins in the stunning town of McLeodGanj, the tourist spot of Dharamshala. The trek is 9 km long and offers you a breathtaking view of the Dhauladhar mountains, including the peaks of Indraasan, Deo Tibba, and Hanuman Tibba. People visiting Dharamshala keep trekking to Triund in their itinerary.
Summer routes for Dharamshala
You can travel to Dharamshala by all three means of transportation during summertime. The most popular route is from Delhi to Chandigarh to Dharamshala. For road trip lovers the Chandigarh Manali route offers Beautiful landscapes. No matter what route you choose, the adventure begins even before you reach Dharamshala.
Dharamshala In Winter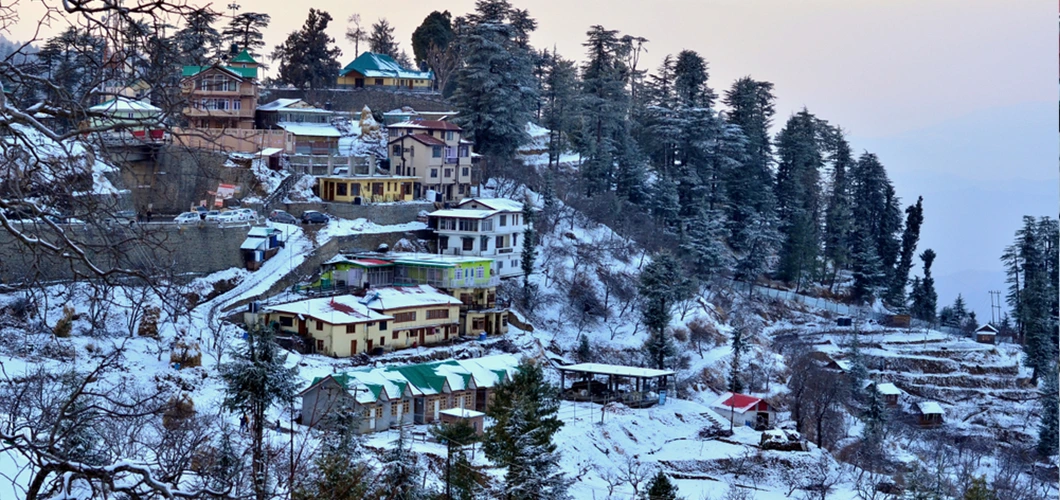 Winter is the best season to visit Dharamshala. Dharamshala is usually cold and dry, with temperatures ranging from 0°C to 15°C. The skies are generally clear and sunny, however, the mountains are covered in white sparkling snow. Which makes it a stunning view to witness. The winter season in Dharamshala marks its presence from early November which lasts until March.
Things To Do In Dharamshala In Winter
Skiing Or Snowboarding
Skiing and snowboarding enthusiasts usually come to this Himalayan paradise to enjoy the season. With beautiful Dhauladhar mountains in the background, the experience becomes more magical. Regardless of whether you are a beginner or a skilled professional Dharamshala has slopes for every individual.
Visiting Local Tourist Sites
Exploring the local tourist sites of Dharamshala in winter is a unique experience. As the temperature drops, this hill station changes in a really majestic way. The popular attraction during winter is Bhagsu Waterfall, where the frozen water of the fall looks really beautiful. Near it is a Bhagsunath Temple and the Dalai Lama temple complex offers a serene time during the visit. Don't forget to indulge yourself in local cuisine. Dharamshala during winter is a peaceful and beautiful escape that offers a distinct perspective on this beautiful region.
Trekking
Trekking in winter in Dharamshala is really a memorable adventure. As the routes get covered with snow, the landscape turns into winterland. The beautiful view of the Dhauladhar mountains against the clear winter sky of Dharamshala is a breathtaking view. Among the top choices of treks in Dharamshala, the Triund trek tops the list. Especially known for its amazing view and challenges.
Local Events and Festivities In Dharamshala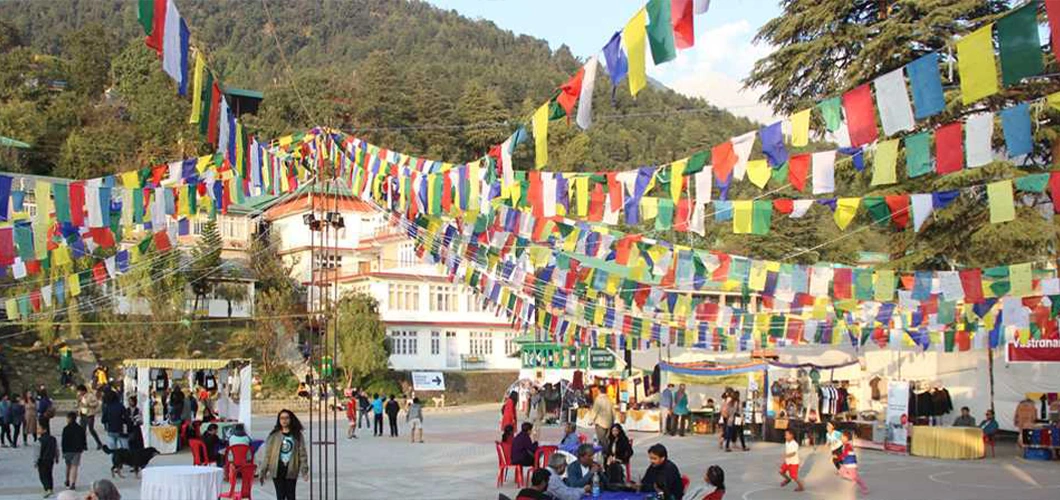 Events and Festivities In Summer
Saga Dawa
Dharamshala is a place primarily devoted to the Buddha religion. This is a month-long celebration in honor of the life of Budhha. It's not just regular prayer and meditation but also a joyous celebration.
Norbulingka Institute Summer Festival
This event is generally held in June or July. It widely celebrates the rich Tibetian culture and artistic heritage. People from around the world gather to witness the Tibetan customs and beliefs. It's a time of joy, unity, and an appreciation for the cultural tapestry that makes Tibet so extraordinary.
Events and Festivities In Winter
Losar
Losar is a Tibetan New Year, celebrated in the month of Feb or March. During this people decorate their houses, make traditional food, and enjoy the local music. Losar is a time of warmth, togetherness, and festivity in Dharamshala in winter. It's a special time for Tibetans, and traditions are passed down from generation to generation.
Champa Festival
This festival is celebrated in the chilling winters of January or February. During this festival, local people get involved in traditional Tibetan culture and music performances. This transports you to the world of ancient beauty and artistry. It's not just a festival; it's a window into the captivating world of Tibetan traditions.
Conclusion
The best time to visit Dharamshala depends entirely on your preference and what adventures you are looking for. The spring and summer months are pleasant, offering you lush landscapes, and many outdoor activities. However, if you are looking for crisp air, and clear skies then winter is best for you. Every season in Dharamshala has a unique charm that ensures whenever you visit, you'll find something special waiting for you in this beautiful Himalayan town.
FAQ
How many days are enough for Dharamshala?
The ideal duration for a trip to Dharamshala can vary based on your interests and the activities you plan to engage in. However, you must take 3-5 days to explore Dharamshala properly.
In which month snowfall in Dharamshala?
Dharamshala experiences snowfall during the winter months, typically from December to February.
Which is the best time to visit Dharamshala?
The best time to visit Dharamshala largely depends entirely on your preferences. If you are adventure adventure-loving, snow-loving person winter is the season for you. But if you are looking for peaceful weather and nirvana summer suits you.